Equipto – Electronics Packaging Solutions
Equipto Electronics Corporation is a leading manufacturer of packaging products for the electronics industry. We design and manufacture a wide variety of standard equipment enclosures, from full-size cabinets to sub-racks, at our facility in Aurora, Illinois.
Multi-Unit Testbed (MUT)For Emulating RF Environments
The first compact, modular, isolated system for testing wireless devices without an anechonic chamber.
Companies involved in designing and building products and systems for wireless protocols are all too familiar with the problem of economically testing their electronics in a repeatable RF environment. Open air testing is time consuming and unreliable. Repeat visits to third-party test facilities can cause scheduling delays and high costs.
With the Multi-Unit Testbed, manufacturers of wireless products for 5g cellular networks and handsets, Wi-Fi, Bluetooth, Zigbee ad other wireless protocols can lower test costs by as much as 90%, vs. third-party testing. Other applications include: robotics, tele-medicine, military communications and drones.
Heavy Duty Cabinets
Our top of the line enclosure offers incredible strength and flexibility. Double-ledge double-plane provides support for over 3,000 pounds of equipment per cabinet. The standard cabinet meets many FCC and EMI/RFI attenuation requirements without gasketing and exceeds shock and vibration tests per Mil-Std 901 and Mil-Std 810D. The Heavy Duty line can be hardened for seismic requirements through Zone 4 and EMI/RFI applications through Tempest. Specifying Heavy Duty will ensure your equipment can be placed in the most extreme environments without redesign! Learn more…
Questions about the difference between Heavy Duty and Challenger? See our differences document.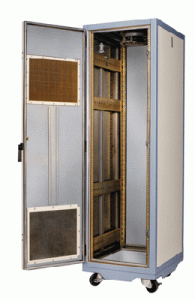 EMI Shielded Cabinets
For serious attenuation problems, choose our EMI Shielded Cabinets. Manufactured from 400 series magnetic stainless steel, they offer shielding levels through Tempest. Using beryllium copper and silver coated gasketing ensures galvanic compatibility and long lasting shielding effectiveness. Because our EMI line has the same specifications as our Heavy Duty line, you have the widest possible choice of accessories available as standard, including seismic hardening kits. Learn more…
Sub-Rack Card Cages and Chassis
Our sub-racks are custom manufactured to meet your particular electronic enclosure requirements. Our wide experience with VME, CPCI and other standards allow you to receive a custom enclosure that easily accommodates standard electronics. Learn more…
 
Challenger Cabinets
Challenger Cabinets are designed to meet most commercial requirements. The Challenger line offers both vertical frames and sloped front consoles in a variety of sizes with modular design, all welded construction, adjustable EIA panel mounting angles and hundreds of accessories. Learn more…
Solid System Cabinets
Solid System is our most economical line of vertical frame and sloped front consoles. The product features a "solid," non-removable side panel. This "Solid Side" offers a cost saving and increases the strength of the cabinet. In all other respects, these cabinets are identical to the Challenger line so all the Challenger accessories are available without modification. When a low cost cabinet is required, consider Solid Side. Learn more…
R6 – The highest EMI/RFI protection available!
In the fields of intelligence and computer security, TEMPEST requirements, specifically NSA 94-106, is amoung the most stringent. The new R6 electronics enclosure, developed by Equipto Electronics' engineers, not only meets but far exceeds the NSA 94-106 standard. The cabinets are custom sized to your requirements. You have options such as front and/or rear doors, panels or a combination of the two; adjustable vertical mounting rails with either punched, threaded or square holes and a wide variety of other accessories. Learn more…
We provide electronics racks to meet earthquake, EMI/RFI, FCC, Military (MIL-STD-167, MIL-STD-461, MIL-STD-810 & MIL-STD-901) Tempest (NSA 94-106), EMP and European EMC requirements. New Ka-Shield enclosures protect signals and data from EMI/RFI and EMP up to 40GHz. N6 watertite, shielded enclosures are available applications that require the highest protection on land or sea.
Equipto is able to manufacture to meet your spec or customize any of our standard products to meet your needs (MOTS). Quantities small or large are not a problem. Our products are RoHS compliant. We are ISO 9001:2015 certified.
Our capabilities include:
Equipto Electronics Corporation is a leading manufacturer of packaging products for the electronics industry. We design and manufacture a wide variety of standard equipment enclosures, from full-size cabinets to sub-racks, at our facility in Aurora, Illinois. Special customer needs are fulfilled by modifications to standard designs or by custom enclosures. As a diverse metal fabricator we have standard product lines, each consisting of multiple variations and accessories, based on the EIA RS-310 standard (often referred to as the 19 inch standard). Many of these products are covered by the company's numerous patents.
Since the company's founding in 1960, our electronic packaging products have been modular in design. This modularity extends well beyond the EIA RS-310 ( 19″ ) standard for maximum user flexibility. For example, equipment can be moved from a vertical rack to a sloped front console, work station or instrument cabinet without modification. By adding shelves, drawers, turrets, casters, lift bolts, standard or special panels, outlet strips, fans, blowers, an almost endless list of accessories and other options, our customers can usually create the perfect electronic enclosure out of a catalog of standard products. This saves time and money over a custom packaging solution. Many projects can be manufactured and shipped by Equipto Electronics in just five working days.